Lecture
Jazz (Part 2)
NEW ORLEANS JAZZ
When we think of New Orleans, we think of Dixieland Jazz. Where did that term originate?
Here's the story:
Maryland and Pennsylvania had a border dispute, so two guys named Charles Mason and Jeremiah Dixon were hired to survey the land in order to establish an official border. The survey was complete in 1767.
The line became known as Mason's and Dixon's Line.
It was gradually shortened to Mason-Dixon Line.
This line came to be considered the unofficial boundary between the "North" and the "South" and the "South" came to be known as
"Dixon-land" and then eventually "Dixieland" and then just "Dixie."
This photo shows a Dixieland band in a street parade.
The origin of that practice was to accompany a funeral.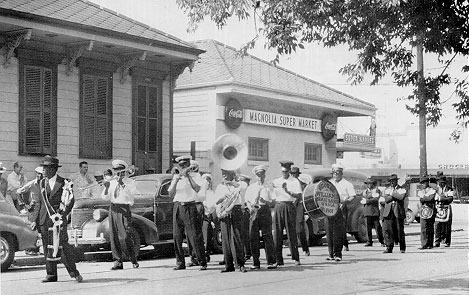 Ken Burns on New Orleans after hurricane Katrina.
CHICAGO JAZZ
To be clear, although Jelly Roll claimed to have invented jazz, this uniquely American style is the result of many influences and several generations, so don't let his self-confidence cause you to overlook the evolution of the style!
BIG BAND JAZZ
1935-1945
The only time when jazz was the most popular music in the country
and (naturally) the most commercially successful.
$ $ $
The job of the Big Bands was to keep people on the dance floor!
They

called

it The

Swing

Era
Then: Swing dancing watch
More recently: Finalists of 2006 watch
Makes me tired just to watch . . .
BIG

BAND

LEADERS

Fletcher Henderson Wrappin' It Up listen

Count Basie Doggin' Around listen

Duke Ellington East St. Louis Toodle-Oo listen

Glenn Miller In the Mood listen

Also check out The Andrews Sisters singing In the Mood

Bennie Goodman

Tommy Dorsey

Artie Shaw

Woody Herman
Swing music and the Big Bands were significantly affected by 3 political realities:
Many band members went overseas during World War II

Also because of World War II, gas rationing curtailed bands from touring

Musician's union strikes crippled the recording industry for a time
Read this 1942 article from Down Beat magazine
Jazz moved on to Bebop, and the smaller combos plus singers, like Frank Sinatra,
became the most popular style in the late 40's and remained so until Rock 'n' Roll.
Created and maintained by Vicky V. Johnson